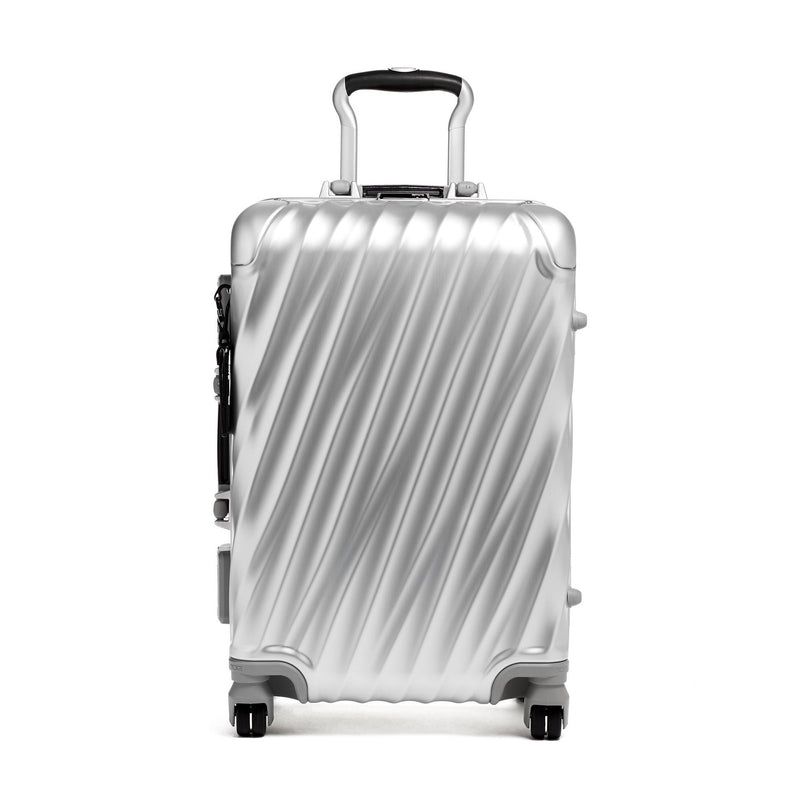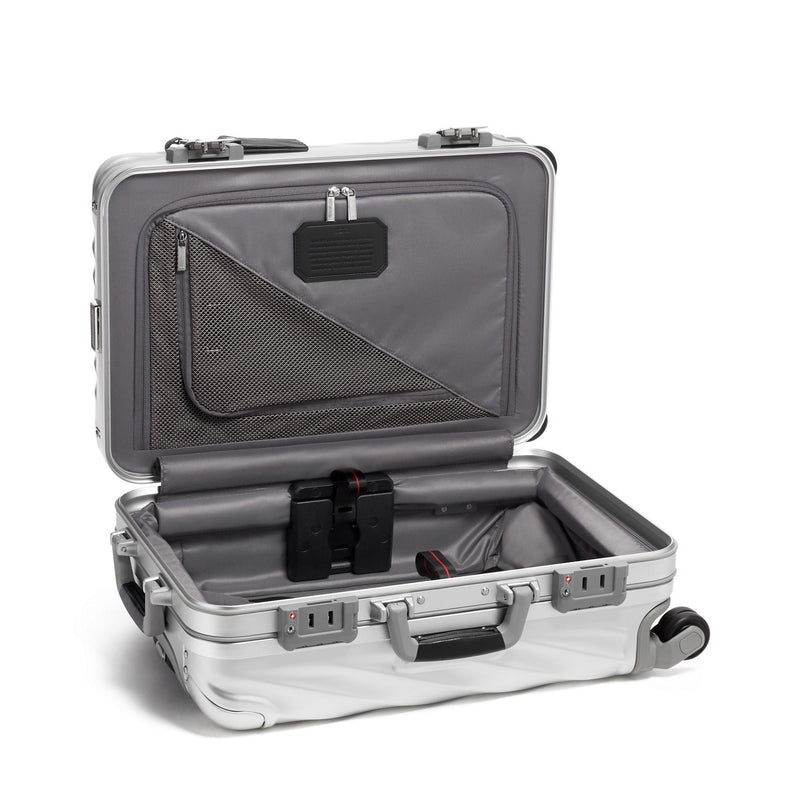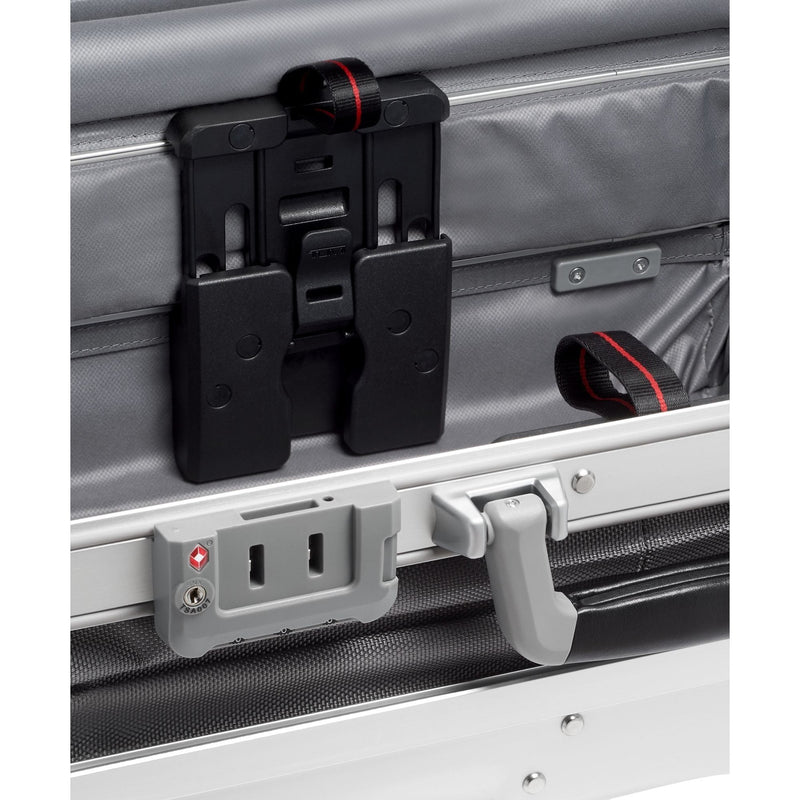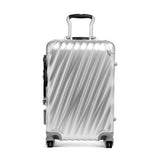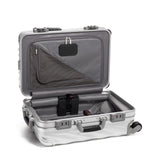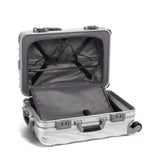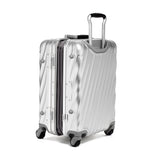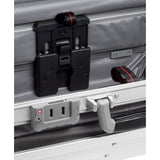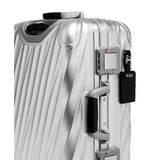 TUMI 19 Degree Aluminum International Expandable Carry-On
Free 3-Day Shipping!

Pro Perks Eligible - 15% Gift Certificate with Purchase
Pro Perks Eligible! You'll receive a Gift Certificate for 15% of product purchase price.
A first of its kind for TUMI, our unique expandable aluminum suitcase is a work of pure innovation. Reengineered from the inside out, our Lever Lock System allows you to pack more while still enjoying the rigid structure and durability of our signature 19 Degree Aluminum Collection. The revolutionary design offers two stages of expansion to optimize versatility.
Equally striking from a distance or at close range, this carry-on boasts a modern silhouette with fluid-looking, angled lines. It's ideal for short, overnight trips and international travels. As with all metals, wear and tear, including nicks, dings and slight denting, is to be anticipated and carried with pride for a journey well-traveled. To further add to the unique characteristics of your travel case, we've packed a variety of vintage-inspired decorative stickers inside your case.

EXTERIOR FEATURES
Frame system opening with 2-stage expansion
2 TSA integrated combination locks with push button to open
3-stage telescoping handle system with push button
Retractable top and side carry handles
4 dual-spinning wheels
Protective bumpers
TUMI Tracer
Luggage tag

INTERIOR FEATURES
2" Lever Lock expansion system
Vintage-inspired destination stickers included
2 zip pockets
Zip divider
Compression straps
Card pocket
Hanger bracket
TUMI Tracer
Specifications
SKU:
IID112029
Warranty: TUMI Limited Warranty
Weight: 13 lb
Brand: TUMI
Line: 19 Degree Aluminum
Model:
139681-1776
UPC:
883509029150
Luggage Size: 21-22" Domestic Carry-On
Wheels: Four wheel spinner
Material: Aluminum
Dimensions: 22 x 14 x 9 in
Compare to Similar Products
Price
Special Promotion
Dimensions
Weight
Material
Wheels
Size
Warranty
Shipping
Additional Features
Strong alternative to Rimowa
I've been back and forth on a metal carry on for sometime and had narrowed it down to Rimoa's cabin or the Tumi 19 international expandable carryon. The Tumi took it for me after seeing it in store and seeing the compactness and expandability features it offers. No one else could touch the deal from LuggagePros with their 15% off store credit and so I ordered. It's been a great experience.
First the luggage; do not buy this piece if you don't want to attract attention. I rolled this through EWR, ATL, and CVG on the first trip and it good second glances every where it went. The design is beautiful in person and, I feel, far outstrips the Rimoa. The size is small. I was coming from a TravelPro Platinum carryon and this has caused me to skinny my travel kit down to only the essentials. I was able to carry a travel CPAP, running shoes and workout gear, toiletries, and underwear and shirts for a 3 day trip with no problem. The side of the suitcase which only has cinch straps and not the zipper panel cover is much less deep than the other side. I used this for the shoes, CPAP, and toiletry kit. The other side had plenty of room everything else for three days. The wheels are great, moving easily over most surfaces….however over carpet such as is typically found in a home you'll probably be dragging the bag on just two wheels. You will think more about where you put this bag than others if you haven't had an aluminum suitcase before. I was much more careful putting this up in to the overhead bins on my flights than my old ballistic nylon TravelPro. This bag probably has a max capacity of 5 days for me, but if you don't need the CPAP you may be able to stretch a bit further without expanding the bag. I do miss the exterior pockets for a carryon, it was a great place to put a charger and other items I don't want to carry in my briefcase, but the interior zipper pocket worked well for that purpose. If you're looking for a high end bag that is less likely to get gate checked this is an elegant, albeit pricy solution. I'm hoping that I fall into the category of people who feel that a few bumps and bruises to an aluminum suitcase show character….time will tell.
On LuggagePros themselves, I cannot recommend this shop enough. My first purchase from them was more than 10 years ago for a set of TravelPro Platinum carryon luggage and a laptop briefcase, the service then was impeccable. it remains so today. The Tumi luggage shipped directly from Tumi itself, I had been concerned on whether they were an authorized retailer for online shopping, but after much digging on their website and a phone call to the customer service team I was able to confirm it. You Will Not find this information on the Tumi site, they just keep pointing you back to their retail stores. With the price of this piece I had to be sure that the warranty would be honored, if needed. I received my 15% store credit via email within a few hours and immediately used it to order a new laptop bag from Tumi. The discount was applied seamlessly at checkout and made the cost of the entire purchase a little less painless. One final financial note, I live in Ohio and was not charged sales tax which saved me an additional 7.8% over my local Tumi store. Unfortunately I recieved an email shortly after the order of the laptop bag that it was backorded from Tumi and wouldn't ship for a couple of weeks. The customer service professional, Jodi, gave me several options including waiting for the bag to become available, an immediate refund, or an upgrade to another bag (for additional cost). There was no magic to it, just great communication which makes me ready to use LuggagePros again when the time comes.
In summary, the experience was wonderful, but bag is exactly what I wanted and Tumi exceeded my expectations with this first purchase. I wouldn't hesitate to recommend the bag to anyone who's willing to make such a hefty purchase and I'd strongly recommend LuggagePros for your next purchase.